Hallowed Grounds re-aired June 2015.
Hallowed Grounds
Learn about America's overseas military cemeteries.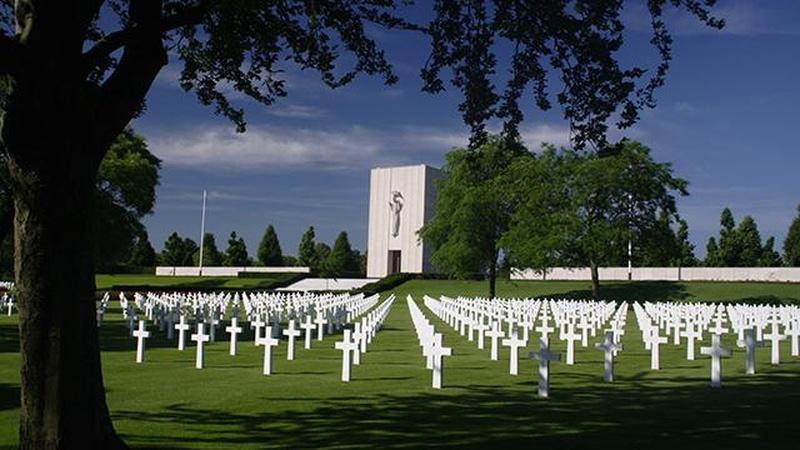 There are 23 World War I and World War II American military cemeteries in England, France, the Netherlands, Luxembourg, Belgium, Italy, Tunisia and the Philippines. Take a rare visit to these extraordinary military cemeteries.
About the Program

"From these honored dead we take increased devotion to that cause for which they gave the last full measure of devotion." — Abraham Lincoln
Many people are aware of the famous American military cemetery at Omaha Beach, Normandy, site of one of the D-Day landings in 1944. But few know there are twenty-one other American military cemeteries in eight different countries memorializing those who were not brought back to the United States after World War I and World War II. Each of these commemorative places is powerful and unique, and has is own stories to tell.
A mother and son visit a grave at Normandy American Cemetery.Robert Uth
These cemeteries, created and maintained by the U.S. government through the American Battle Monuments Commission, are permanent memorial sites, built to stand the test of time. Collectively they contain the remains of 125,000 Americans. There are 94,000 more names commemorated on Walls of the Missing. Dignified and serene, they were created to honor America's fallen, but they are also intended to inspire and teach the living.
Hallowed Grounds is the first major documentary made about these remarkable shrines, and brings them all to life with stunning visuals and powerful storytelling. The program weaves elements of a historical documentary with contemporary scenes of the cemeteries.
There are American World War I and World War II cemeteries in England, France, the Netherlands, Luxembourg, Belgium, Italy, Tunisia and the Philippines. All are places of astonishing natural beauty, embellished with great architecture and powerful works of art. It is the contrast of these remarkable burial grounds with the horrors of war that gives them their profound impact.
The documentary moves chronologically through both world wars of the 20th century. Most of the cemeteries are located on or near the major battlefields. The narrative provides a general history of the wars, and briefly recounts the battles and operations that took place in the areas where the cemeteries are located.
Each cemetery contains tales of courage and unselfish service to comrades and country. Some of the fallen profiled in the program are well known: the poet Joyce Kilmer, the bandleader Glenn Miller, the five Sullivan Brothers, General George S. Patton. But most were ordinary men and women caught up in the calamity of war.
These military cemeteries also personify American diversity, and the program includes portraits of some of the many African-American, Hispanic-American, Japanese-American, Native-American, and Anglo-Americans who are buried in them.
It also contains numerous interviews with formal and informal historians, visiting relatives, and foreign nationals who act and speak their appreciation on-camera.
Hallowed Grounds allows Americans to see for the first time some of their great national treasures. It seeks to heighten respect for those who lost and continue to lose their lives for America, and reminds viewers of the great and tragic cost of war in the pursuit of liberty.
Hallowed Grounds is a production
of New Voyage Communications in Washington, DC.
 It was directed by national Emmy Award winner Robert Uth; produced and written by Robert Uth and Glenn Marcus; and narrated by Peter Thomas, a veteran of both the Normandy landings and the Battle of the Bulge.
Related Links
Funded by:
Air Travel Provided By: 
Produced by: 
 
© 2015 New Voyage Communications, Inc. All Rights Reserved. Text and photos courtesy of Robert Uth.